Water Quality Projects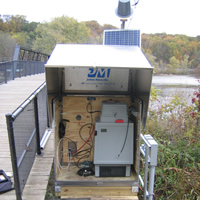 Water-Quality Monitor Network in Michigan
The USGS operates a network of real-time water-quality monitoring stations that measure up to five physical parameters. The parameters are temperature, specific conductance, pH, dissolved oxygen, and turbidity. One to four of those parameters are measured at 26 sites, while all five parameters are measured at 13 sites. These data are used for decision making about hydroelectric power generation, water treatment, regulatory programs, recreation and resource monitoring, healthy ecosystems, and public safety.
Data are stored in NWIS and are available using the following links.
Water Quality Watch for the United States
NWIS Current Conditions for Michigan
Water Quality Watch for Michigan
Tom Weaver, tlweaver@usgs.gov
---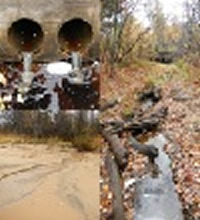 Storm Drain Water Quality Study
In its 2012 annual report the National Resource Defense Council sited polluted run-off and stormwater as a primary cause of beach advisories and closures. Statewide beaches on the Great Lakes have one or more storm drains carrying various pollutants to recreational areas. Interaction with storm drain derived contaminants could potentially lead to human illness. The USGS Michigan Water Science Center is currently conducting an investigation into the impacts of urban stormwater runoff on Great Lakes beaches in northern Lower Michigan and in Michigan's Upper Peninsula. These studies focus on understanding how storm drains affect the source, occurrence, and distribution of fecal indicator bacteria, like Escherichia coli, and pathogenic bacteria, like Staphylococcus or Salmonella, in recreational water.
---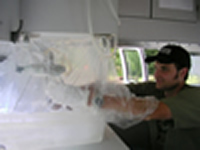 Lansing Area Emerging Contaminants
The USGS, in cooperation with the Tri-County Regional Planning Commission, will analyze water sample results from 20 Lansing area wells. The objective of this study is to investigate well characteristics and other factors that may influence the susceptibility of drinking water-supply wells to contamination by contaminants of emerging concern. This information can be used by Lansing and other surrounding communities to manage their municipal water-supply systems.
Carol Luukkonen , clluukko@usgs.gov
---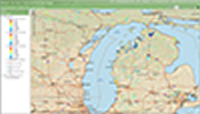 The U.S. Geological Survey (USGS), in cooperation with the Michigan Department of Environmental Quality (MDEQ), use a technique modeled after Olmanson and others (2001) to predict water clarity and corresponding trophic state index (TSI) values based on the Carlson's Trophic State Index (TSI) in inland lakes greater than 20 acres using satellite remote sensing data. Measurements from the Cooperative Lakes Monitoring Program, which is a network of volunteers coordinated by the MDEQ that monitor lake water quality, are used along with dedicated SDT measurements by USGS crews to supplement in the Upper Peninsula of Michigan. Available online are statewide layers with predicted Secchi-disk and corresponding trophic state index (TSI) values for Michigan inland lakes. For more information on the project, reports, downloadable data/metadata, and to view the available predictions for Michigan inland lakes greater than 20 acres (without interference from clouds, cloud shadows, dense vegetation or shoreline), go here.
Lori Fuller, lmfuller@usgs.gov
---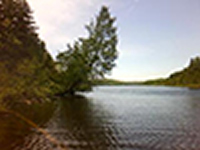 Determination of Algal Toxin Concentrations in Surface Waters at National Parks
The U.S. Geological Survey, in partnership with the National Park Service began a project in 2012 exploring levels of the algal toxins in surface drinking water and recreational waters in 3 National Park Service Parks: Sleeping Bear Dunes National Lakeshore, Isle Royale National Park, and Pictured Rocks National Lakeshore. Produced by cyanobacteria, algal toxins such as microcystin can cause moderate to serious illness in humans and wildlife. Algal blooms are typically a result of high nutrient concentrations allowing for the proliferation of naturally occurring cyanobacteria. While typically found during intense algal bloom formations, algal toxins have also been associated with non-blooming conditions. In order to determine if algal toxins pose a risk to human or wildlife, water samples will be collected from 16 inland lakes and 4 Lake Michigan sites and analyzed for microcystin and nutrient concentrations. A subset of samples will be also be analyzed for cylindrospermopsin, and saxitoxin and other algal toxins in order to better understand the diversity of potential toxins that may be present particularly during a bloom.
Lori Fuller, lmfuller@usgs.gov
---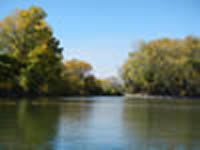 In support of the Michigan Department of Environmental Quality (MDEQ) Water Chemistry Monitoring Project, the USGS Michigan Water Science Center has been collecting long-term water quality data for Michigan's rivers and streams. Water samples are collected 4 to 12 times a year for selected nutrients, trace metals, sediment, and other water-quality constituents. Intensive sampling (12 samples per year) is being conducted on major Great Lakes Tributaries including the Au Sable River, Saginaw River, Clinton River, Kalamazoo River, Muskegon River, and Grand River. Following a rotational schedule, other streams are sampled intensively every 5 years in addition to being sampled quarterly during their off years. Results of this program are being used by MDEQ to help determine the water-quality status of Michigan's rivers and streams, and to estimate chemical loads to the Great Lakes. This project has been collecting data since 1998, and Statewide trends in water-quality for the major rivers and streams have been evaluated using this data. Information on the MDEQ Water Chemistry Monitoring Project is available here.
Reports are available for the following studies:
Comparison of streamflow and water-quality data collection techniques for the Saginaw River, Michigan

Antibiotic, pharmaceutical, and wastewater-compound data for Michigan

Analysis of water-quality trends for selected streams in the Water Chemistry Monitoring Program, Michigan

Screening for the pesticides atrazine, chlorpyrifos, diazinon, metolachlor, and simazine in selected Michigan streams, March–November 2005

Trends in Surface-Water Quality at Selected National Stream Quality Accounting Network (NASQAN) Stations, in Michigan

Atrazine Concentrations in Stream Water and Streambed Sediment Pore Water in the St. Joseph and Galien River Basins, Michigan and Indiana, May 2001-September 2003

PCB Concentrations in Pere Marquette River and Muskegon River Watersheds, 2002
Cynthia Rachol, crachol@usgs.gov
---