Outreach and Education
Michigan Water Science Center has created a fun twist to the television game Jeopardy, called Water Jeopardy.
Each year USGS Outreach teams in Michigan visit with hundreds of school-age children and adults to provide information about water, geology and earth science. Our activities range from designing activities and coloring books for kindergarten classes to making presentations at conferences. We visit individual classrooms and participate in large festivals with thousands of students. We tailor our activities to be appropriate for different age groups and interests: coloring books and stories for children, activities for older children, and interactive multimedia presentations for high school students and adults.
If you are a school teacher, festival/conference organizer or civic club member/officer, we would be glad to come share the facts about water and earth science with your class, festival or civic group. We also have some material available for use by teachers and for adult reference and self study.
USGS Outreach Activities
Water Jeopardy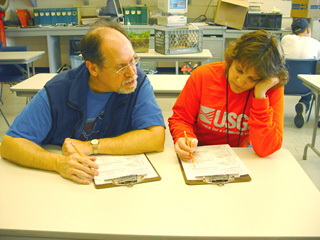 Science Olympiad
The Michigan Water Science Center has created a fun twist to the television game Jeopardy, called Water Jeopardy. Our version focuses on water related questions and is geared toward 5th and 6th graders. Students answer questions about water and the water cycle, and each right answer earns them the number of cups of water that matches the difficulty of the question. Large rain gauges help the teams keep score. The first team to fill their rain gauge wins the game.
Children's Groundwater Festival
The Children's Groundwater Festival, started by The Groundwater Foundation 16 years ago, is an annual one-day event for fourth and fifth grade students of Michigan. It is a dynamic, energetic day filled with hands-on education. Originally sponsored and organized by The Groundwater Foundation for it's first 16 years, the Children's Groundwater Festival is now self-sustained by its hometown community of Grand Island.
Science Olympiad
The USGS partners with the Groundwater Foundation and other agencies and organizations to help make Science Olympiad events possible. Science Olympiad is a nonprofit organization devoted to improving the quality of science education, increasing student interest in science and providing recognition for outstanding achievement in science education by both students and teachers. These goals are accomplished through classroom activities, research, training workshops and the encouragement of intramural, district, regional, state and national tournaments.
Science Olympiad tournaments are academic competitions that consist of a series of individual and team events which students prepare for during the school year. These competitions are balanced among the various science disciplines of biology, earth science, chemistry, physics, computers and technology.
Contact Information
U.S. Geological Survey
Michigan Water Science Center
6520 Mercantile Way, Suite 5
Lansing, Michigan 48911
Phone:(517) 887-8903
Fax: (517) 887-8937
dc_mi@usgs.gov