ABOUT THE Michigan
WSC
USGS in Your State
USGS Water Science Centers are located in each state.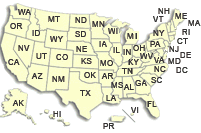 Michigan Water Science Center Employee Directory
Office of the Director
Administrative Unit
Hydrologic Data Collection and Analysis Unit
Information Technology Unit
Hydrologic Networks and Data Section
Lansing Field Office
Escanaba Field Office
Grayling Field Office
---
Click for graphical representation of Organizational Chart. ( Adobe Reader, pdf format, 57 KB)
If you do not have Adobe Reader, you can download it for free at
Adobe Reader
Use of this software product does not imply endorsement by U.S. Government.
---
USGS Michigan Water Science Center Office
6520 Mercantile Way, Suite 5
Lansing, MI 48911-5991
Phone: (517) 887-8903
Fax: (517) 887-8937
Office Hours : 08:00 AM - 4:30 PM
Hydrologic Data Collection and Analysis Unit

| | | | |
| --- | --- | --- | --- |
| Fogarty, Lisa R. | Supervisory Hydrologist, Section Chief | lrfogart@usgs.gov | (517) 887-8968 |
| Reeves, Howard W. | Research Hydrologist | hwreeves@usgs.gov | (517) 887-8914 |
| Holtschlag, David J. | Hydrologist (Surface Water Specialist) | dholtschlag@usgs.gov | (517) 887-8910 |
| Hoard, Christopher J. | Hydrologist (Ground Water Specialist) | cjhoard@usgs.gov | (517) 887-8949 |
| Luukkonen, Carol L. | Hydrologist | clluukko@usgs.gov | (517) 887-8920 |
| Fuller, Lori M. | Geographer | lmfuller@usgs.gov | (517) 887-8911 |
| Rachol, Cynthia M. | Hydrologist | crachol@usgs.gov | (517) 887-8943 |
| Givens, Carrie E. | Microbiologist | cgivens@usgs.gov | (517) 887-8933 |
| Jodoin, Richard S. | Geographer (GIS Specialist, Safety Officer) | rsjodoin@usgs.gov | (517) 887-8948 |
| Brennan, Angela K. | Hydrologist | akbrennan@usgs.gov | (517) 887-8905 |
| Isaacs, Natasha M. | Microbiologist | nisaacs@usgs.gov | (517) 887-8919 |
| Prokopec, Julia G. | Hydrologist | jprokopec@usgs.gov | (517) 887-8921 |
| Maurer, Jessica A. | Biologist | jmaurer@usgs.gov | (517) 887-8930 |
| Totten, Alexander R. | Student Trainee (Biology) | atotten@usgs.gov | (517) 887-8954 |
| Hyslop, Ian M. | Student Trainee (Biology) | ihyslop@usgs.gov | (517) 887-8965 |
| Snarski, Sarah. | Student Trainee (Hydrology) | ssnarski@usgs.gov | (517) 887-8909 |
| Wallace, Joseph C. (JC) | Microbiologist | jcwallace@usgs.gov | (517) 887-8907 |
Information Technology Unit

| | | | |
| --- | --- | --- | --- |
| McGowan, Rose M. | IT Specialist (SysAdmin, COUA(P), SPOC(S), DGM-UAM) | rmcgowan@usgs.gov | (517) 887-8928 |
| Reynolds, Marie S. | IT Specialist (SysAdmin, COUA(S), SPOC(S),Webmaster, UAM) | mreynold@usgs.gov | (517) 887-8904 |
Hydrologic Networks and Data Section

| | | | |
| --- | --- | --- | --- |
| Weaver, Thomas L. | Supervisory Hydrologist, Section Chief | tlweaver@usgs.gov | (517) 887-8923 |
| Hubbell, Derrick L. | Supervisory Hydrologic Technician, Lansing and Grayling Field Office Chief | dhubbell@usgs.gov | (517) 887-8944 |
| James, Don A. | Acoustic Measurement Specialist | dajames@usgs.gov | (989) 348-8291 |
| Beeler, Stephanie | Hydrologic Technician, Database Administrator | sbeeler@usgs.gov | (517) 887-8934 |
---
Field Headquarters - Lansing 48911
6520 Mercantile Way, Suite 5
Lansing, MI 48911-5991
Phone: (517) 887-8903
Fax: (517) 887-8937
Office Hours : 07:30 AM - 4:30 PM
Lansing Field Office - MI-WSC

| | | | |
| --- | --- | --- | --- |
| Hubbell, Derrick L. | Supervisory Hydrologic Technician, Field Office Chief | dhubbell@usgs.gov | (517) 887-8944 |
| Obenauer, Daniel J. | Hydrologic Technician | obenauer@usgs.gov | (517) 887-8946 |
| Morgan, Thomas R. | Hydrologic Technician | trmorgan@usgs.gov | (517) 887-8952 |
| Heissenberger, Brian M. | Hydrologic Technician | bheissen@usgs.gov | (517) 887-8970 |
| Howell, Robert W. | Hydrologic Technician | rwhowell@usgs.gov | (517) 887-8953 |
| Taricska, Charles K. | Hydrologic Technician | cktarics@usgs.gov | (517) 887-8947 |
| Loewel, Joshua T. | Hydrologic Technician | jloewel@usgs.gov | (517) 887-8924 |
| Reithel, Nicholas J. | Hydrologic Technician | nreithel@usgs.gov | (517) 887-8908 |
| Prokopec, Nathan J. | Hydrologic Technician | nprokopec@usgs.gov | (517) 887-8916 |
| Bach, Matthew | Hydrologic Technician | mbach@usgs.gov | (517) 887-8908 |
---
Escanaba Field Office - MI-WSC
1601 Ludington St., 2nd FL
Escanaba, MI 49829
Phone : (906) 786-0714
Fax : (906) 786-5461
Office Hours : 07:30 to 16:30
Escanaba Field Office - MI-WSC

| | | | |
| --- | --- | --- | --- |
| Dalrymple, Timothy L. | Supervisory Hydrologic Technician, Field Office Chief | tldalrym@usgs.gov | (906) 786-0714 |
| Wydra, Daniel G. | Hydrologic Technician | dgwydra@usgs.gov | (906) 786-0714 |
| Burdett, Dean | Hydrologic Technician | dburdett@usgs.gov | (906) 786-0714 |
| Holmio, Matthew A. | Hydrologic Technician | mholmio@usgs.gov | (906) 786-0714 |
| Clark, Donald J. (Joe) | Hydrologic Technician | dclark@usgs.gov | (906) 786-0714 |
---
Grayling Field Office - MI-WSC
1955 Hartwick Pines Road
P.O. Box 485
Grayling, MI 49738
Phone : (989) 348-8291
Fax : (989) 348-6866
Office Hours : 07:30 to 16:30
Grayling Field Office - MI-WSC

| | | | |
| --- | --- | --- | --- |
| Hubbell, Derrick L. | Supervisory Hydrologic Technician, Field Office Chief | dhubbell@usgs.gov | (517) 887-8944 |
| Dewitt, Todd A. | Hydrologic Technician | tadewitt@usgs.gov | (989) 348-8291 |
| Lipinski, Casimer E. (Ed) | Hydrologic Technician | celipins@usgs.gov | (989) 348-8291 |
| Wilkinson, James A. | Hydrologic Technician | jawilkin@usgs.gov | (989) 348-8291 |
| Klein, Joseph V. | Hydrologic Technician | jvklein@usgs.gov | (989) 348-8291 |
---
Midwest Area Staff at Lansing

| | | | |
| --- | --- | --- | --- |
| Grannemann, Norman G. | Great Lakes Program Coordinator - MW Area | nggranne@usgs.gov | (517) 887-8936 |