CURRENT CONDITIONS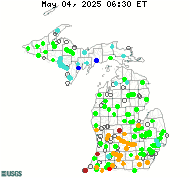 DATA CENTER
Real-time data
Historical data
WaterWatch
ABOUT THE Michigan
WSC
USGS in Your State
USGS Water Science Centers are located in each state.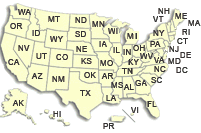 Michigan Water Science Center Projects
What we're doing...
Recent Projects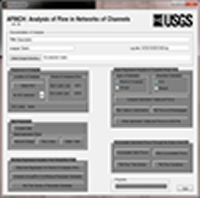 AFINCH (Analysis of Flows in Networks of CHannels) is a computer application designed to generate time series of monthly flows at stream segments and corresponding water yields at catchments defined in the National Hydrography Dataset (NHDPlus, v. 2). AFINCH provides a basis for integrating monthly flow data from streamgages, water-use data, monthly climatic data, land-cover and catchment attributes described in user-defined shapefiles to estimate natural monthly water yields from catchments. AFINCH provides an interactive process for the user to develop sets of multiple-regression equations for estimating monthly water yields. Images of monthly water yields for active streamgages are generated in AFINCH and provide a basis for detecting anomalies in water yields, which may be associated with undocumented flow diversions or augmentations. Water yields are multiplied by the drainage areas of the corresponding catchments to estimate monthly flows. Flows from catchments are accumulated downstream through the streamflow network described by the stream segments. For stream segments where streamgages are active, computed flows are constrained to match measured flows. Flow is conserved through the NHDPlus network. Generated time series of monthly flows can be tested for trends and used to develop monthly flow duration curves. For more information, see the report here.
Dave Holtschlag, dholtschlag@usgs.gov
---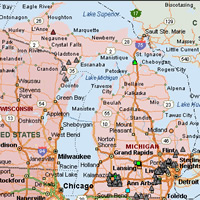 The USGS Michigan Water Science Center cooperates with local and state agencies to collect and maintain groundwater data across Michigan. The USGS and local partners actively monitor 90 wells. Of these 90 wells, 22 are continuously monitored with 3 of those continuously monitored sites displayed in near real-time. All current and historical data for Michigan are in the USGS National Water Information System (NWIS) database, which can be accessed at this link: Groundwater Data.
Chris Hoard, cjhoard@usgs.gov
---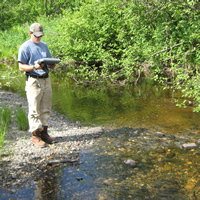 Low-Flow Streamgage Network in Michigan
Data on low-flow characteristics are used by water-resources managers for a variety of purposes, including water-supply planning, making decisions about wastewater-discharge and water withdrawal permits, and evaluating in-stream flow requirements. The Michigan low-flow network currently consists of seven sites where streamflow is typically measured only during low-flow periods. In addition to these dedicated low-flow sites, low-flows are also targeted for measurement at the remainder of the streamgaging throughout the state, as needed.
Tom Weaver, tlweaver@usgs.gov
---