GLRI Projects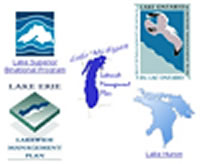 GLRI Lakewide Management Plan Capacity Support
The goal of this work is to provide USGS expertise, capacity, and support for the Great Lakes Lakewide Programs for all of the Great Lakes and their connecting channels. The USGS Michigan Water Science Center participates in interagency meetings and workgroups, and provides needed water resource information to help implement Lakewide Area Management Plans (LaMPs) programs and priorities for Lake Michigan, Lake Superior, Lake Huron, and Lake Erie and looks for opportunities to incorporate LaMP goals into USGS planning.
Lisa Fogarty, lrfogart@usgs.gov
---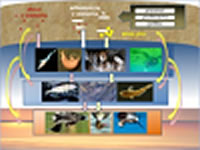 Avian Botulism in Distressed Great Lakes Environments
Botulism outbreaks occur within the Great Lakes and often result in significant bird die offs. It is believed that Clostridium botulinum is the reason for these die offs and the trophic pathways that this organism travels are of interest to understanding its place within the food web. The GLRI Avian Botulism Project is investigating six different matrices: sediment, Cladophora, invertebrates, mussel tissue, mussel micro habitat, which is defined as the substrate that the mussel attaches itself to, the interior and exterior of the mussel shell and the material that is collected in close proximity to the mussel itself as well as the intestinal content of gobies caught within the Sleeping Bear Dunes National Lakeshore. Our approach is to use quantitative PCR (qPCR) to determine the genetic potential for botulism type E toxin production within the area of interest. With additional research being conducted by supporting cooperators, we intend to use qPCR data in conjunction with spatial and temporal data collected, such as water temperature, DO, pH, depth and substrate composition, to see which components play a significant role in promoting the growth of C. botulinum. These data will be analyzed and interpreted with the intent of being able to predict when and where an outbreak may occur.
Download pdf (7.98MB) manual from www.michigan.gov: Type E Botulism Outbreaks: A Manual for Beach Managers and the Public

Natasha Issacs, nisaacs@usgs.gov
---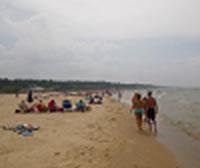 Important questions about beach closures and management remain unanswered in the Great Lakes where over 500 beaches are routinely used along the nearly 11,000 miles of coastline. The economies of coastal areas are dependent on public confidence in the quality of water at the shoreline, and beach managers need reliable science-based information to make beach closure and beach management decisions. Scientists in USGS Science Centers in the Great Lakes are leading or involved in much of the research on cost effective ways to make beach closure decisions as well as on a more complete understanding of microbiological science relevant to making effective beach management decisions. This overall project is titled "Enhance Great Lakes Recreational Water Quality Decision Making" and is part of the USGS efforts under the Great Lakes Restoration Iniative to address Nearshore Health. Scientists within the MIWSC are focused primarily on exploring new laboratory methods for pathogen detection and identifying physical and biological processes that influence pathogen occurrence at Great Lakes beaches. In addition, MIWSC scientists are assisting beach mangers throughout Michigan in the development of predictive tools for more timely beach closure decision-making.
For more information, see the report at: Evaluation of Potential Sources and Transport Mechanisms of Fecal Indicator Bacteria to Beach Water, Murphy Park Beach, Door County, Wisconsin
Carrie Givens , cgivens@usgs.gov
---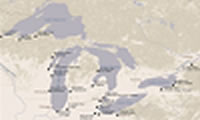 Occurrence of Pathogens in Great Lakes Tributaries
From March through October 2011, the U.S. Geological Survey (USGS) Michigan Water Science Center, in conjunction with USGS Water Science Centers in Indiana, Minnesota, Ohio, New York, and Wisconsin, conducted a study to determine the frequency of occurrence of genetic markers of bacterial pathogens and densities of fecal indicator bacteria (FIB) in tributaries to the Great Lakes. This project was funded as part of the Great Lakes Restoration Initiative, and included analysis of 21 sampling locations throughout six states that border the Great Lakes.
Angela Brennan, akbrennan@usgs.gov
---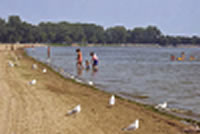 Restoring Recreational use of Great Lakes Beaches by Intensified Beach Monitoring for Pathogens and Avian Botulism Markers
Great Lakes beaches are a focal point for public interaction with the lakes and are highly visible and popular recreation areas. Great Lakes beaches have been impacted by closings due to water quality concerns and the effects of bacterial contamination, and have been littered with fish and bird carcasses during periodic outbreaks of botulism. Some beaches have become fouled with excess quantities of the algae Cladophora, which may harbor human and animal pathogens and produce offensive odors that discourage use of beaches by the public. This project will intensify Great Lakes beach monitoring and relate environmental conditions and presence of Cladophora on beaches to 1) the abundance of microbial pathogens, 2) the abundance of the gene responsible for botulism type E toxin production, and 3) the occurrence of bird carcass deposition on a variety of Great Lakes beaches. This project is a collaboration with the USGS Great Lakes Research and National Wildlife Health Centers.
Lisa Fogarty, lrfogart@usgs.gov
---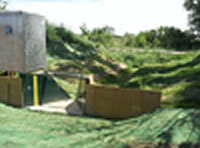 Evaluation of Phosphorus Reduction in Targeted Watersheds
The Great Lakes Restoration Initiative (GLRI) was established to accelerate ecosystem restoration in the Great Lakes by confronting the most serious threats to the region, such as nonpoint source pollution, toxic sediments, and invasive species. Three Priority Watersheds have been targeted by the Regional Working Group's Phosphorus Reduction Work Group (Fox/Green Bay, Saginaw, and Maumee) and are characterized by having a high density of agricultural land use and have ecosystem impairments that have been clearly identified. Within these Priority Watersheds, monitoring will be conducted at the sub-watershed, edge-of-field, and/or subsurface-tile scale.
Data is available here.

Cynthia Rachol, crachol@usgs.gov
---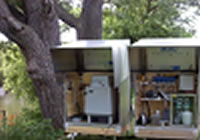 Determine Baseline and Sources of Contaminant Loadings to the Great Lakes
To better understand the quality of water flowing into the Great Lakes, the USGS is conducting water-quality analyses for nutrients, sediment, and toxic substances and estimating the amount (load) of these substances for tributaries to the Great Lakes. Information on the occurrence and distribution of contaminants is needed to provide baseline information, measure progress towards restoration goals, and assess new threats. This information will provide an understanding of how contaminants reach the Great Lakes, and where they come from, so that the effects of future actions can be assessed and predicted.
Dan Obenauer, obenauer@usgs.gov
---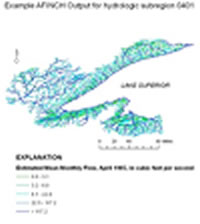 Watershed Modeling for Stream Ecosystem Management
This project provides unified information across the Great Lakes Basin for ecosystem restoration, assessment, and management by incorporating models that relate changes in landscape characteristics, hydrologic variables, and external stresses to changes in aquatic ecosystem function. The project relies upon regionally consistent hydrologic, biologic, and geospatial data to generate regionally consistent estimates, models, and analysis. The focus of the work to date has been the estimation of monthly average streamflows for ungaged streams in the Great Lakes Basin. The streams being estimated are those depicted on the 1:100,000-scale NHDPlus dataset, and for most of the basin, the estimated time period is 1951 through 2010.
Howard Reeves, hwreeves@usgs.gov
---