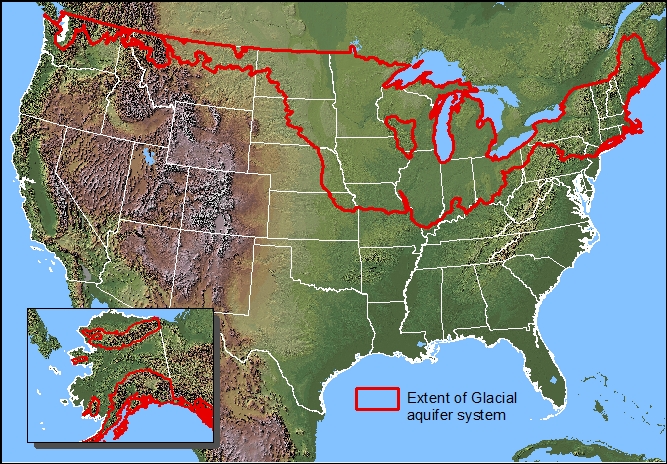 The Glacial Aquifer System Groundwater Availability Study began in 2012 and will be completed in 2016. The study will assess groundwater availability for the expansive and diverse glacial aquifer system of the United States. The glacial aquifer system is present in parts of 26 states and is subject to a range of climatic conditions from humid to semi-arid. Groundwater availability in the system may be constrained by climatic conditions (limited recharge), poor water quality from natural or man-made constituents, hydrogeology (limited storage or low hydraulic conductivity), concerns of conflicts with current groundwater users, or the desire to maintain or restore environmental streamflows. The glacial sand and gravel principal aquifer is contained within the glacial aquifer system. This principal aquifer, as defined by USGS (Miller, 1999), is present in parts of 22 states, glacial deposits in Idaho, Washington, and Alaska are not included in the definition given by Miller (1999). Withdrawals from the principal aquifer in 2000 were 5 percent of the total withdrawals from all aquifers (Maupin and Barber, 2005). The sand and gravel principal aquifer is the largest source for public supply and self-supplied industrial for any principal aquifer; and it also is an important source for irrigation supply.
The glacial aquifer system groundwater availability study is one of the USGS efforts in response to the Department of Interior WaterSMART initiative. This study is designed to provide information and analysis to stakeholders and decisionmakers for characterizing groundwater availability in regions within the glacial aquifer system. This study complements other regional aquifer studies through the Groundwater Resources Program designed to develop a national assessment of groundwater availability in USGS Principal Aquifers as part of a national Water Census.
The study seeks to quantify:
the status of groundwater resources in the glacial aquifer system,
how these resources have changed over time, and
likely system response to future changes in anthropogenic and environmental conditions.
And to develop means to effectively deliver this information to stakeholders and decisionmakers.